This June we had our first ski picking trip of the summer. It was a little early for us, as Adam is still in mountain bike mode and I am enjoying some roller skiing. But traveling for ski picking requires going to look at the most skis possible whenever they become available. Fischer had good early production so we got an early start to our picking. Don't worry if you are a Fischer skier and stressing you didn't get on our pick list in-time. We have another few picking trips schedule later this summer and early fall. Next trip is a little over a week from now and we are going to Norway and Austria to visit Madshus, Atomic, Salomon and Fischer.  Sign up here to be added to our pick list: https://www.pioneermidwest.com/ski-services/ski-request/
Fischer has a new graphic design year for 2019/2020. I would say Fischer has the most consistent release of new skis… every two years they come out with fresh stuff. Below I will touch on some of the new changes.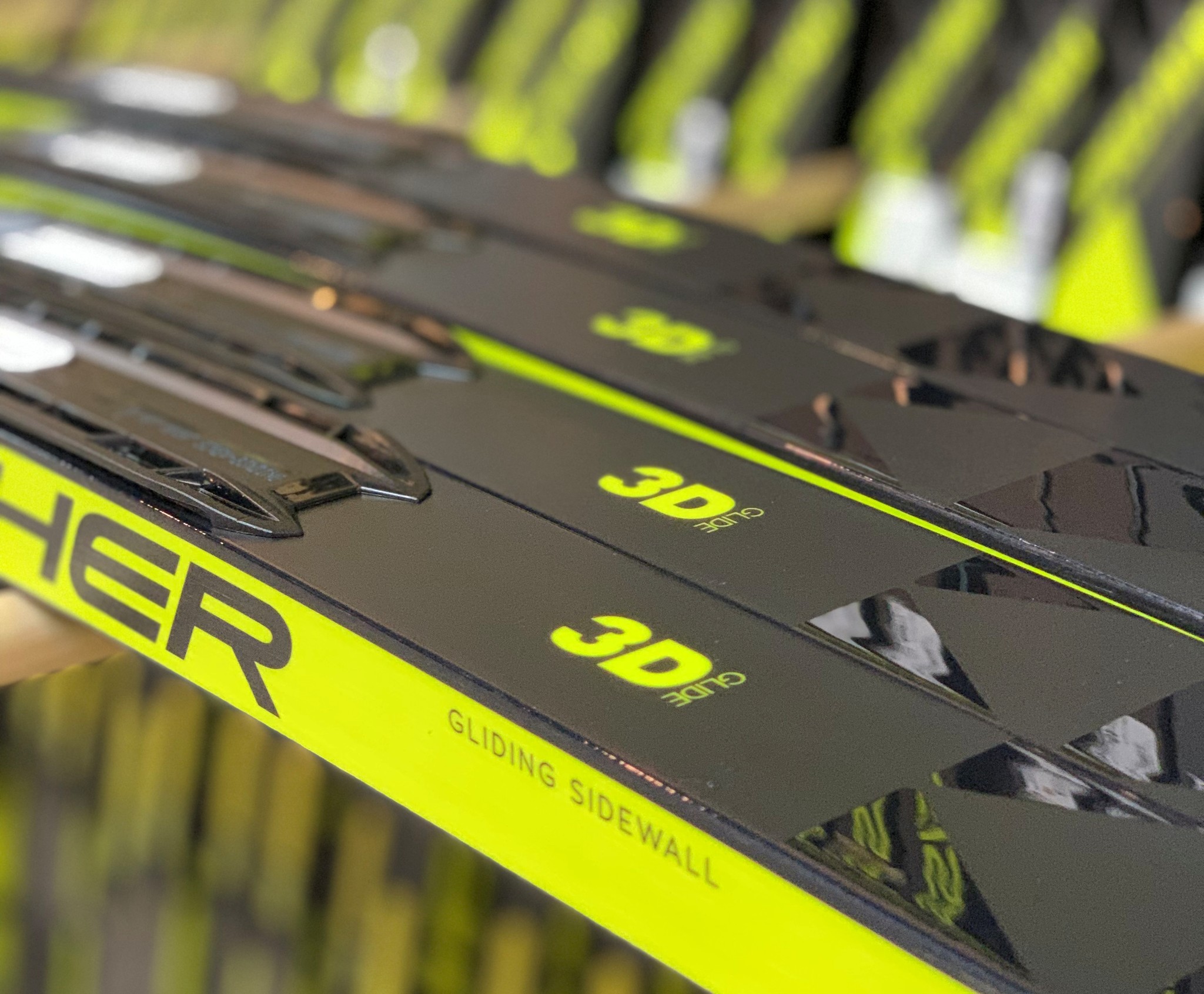 3D glide: This is pretty exciting. Fischer has added gliding base material to the sidewall of the skis. They are only doing this treatment to the Speedmax. I have been told the base material is one of the most expensive components in the raw materials that comprise a ski. It makes sense that the price on Speedmax went up with 3 surfaces now covered in gliding base material. The base material on the sidewalls is only to be waxed with liquid waxes. My guess is the material is pretty thin to keep weight low but I have not cut into a pair to check yet. But ironing the 3D gliding sidewall will likely void your warranty.
Benefits: The benefits of a gliding sidewall seem to be most pronounced in soft/wet snow when the sidewall is coming in contact with snow/suction. Also, classic skiing in a track results in bumping into the side of the track at times so the benefit for classic skiing seems to be quite high.
Testing: We received a dozen pairs of 3D skis near the beginning of February last winter. Of course we flex tested, mounted up, demoed and sold a few pairs. The consensus was these skis are fast. They have a lighter swing weight compared to last years Speedmax, the flex looks as consistent and smooth as ever from Fischer and they retain that "Fischer" underfoot feel. A few of our customers with the new 3D skis ended up using them in race situations right away. Our flex testing also revealed there is still a lot of camber action variation from pair to pair even within a similar batch. This is a good thing as it allows for us to select cambers from a broad spectrum to match up to the characteristics our customers give us whether it be warm, cold, soft, firm, transitional, stability or just universal speed.
No screws: In the past, Fischer has added filler material to the core of all their skis. During our factory tour last summer, we met the guy that mixed sawdust and epoxy at his work station and "painted" that filler mix into the core of the skis so SNS screws would have some material to anchor into. Fischer is no longer adding this filler to the core of their Speedmax skis and if I were to guess, that will continue down their product line in the future. This is bad news for SNS customers as Fischer no longer recommends mounting screw bindings onto a Speedmax. Mounting SNS screw bindings onto a Fischer Speedmax will void the warranty. For what it's worth, Rossignol has not had any filler material in the core of their IFP race skis and we have mounted many pairs with no failures yet (fingers crossed). I have not mounted screws into an un-reinforced Fischer core yet but I foresee a few customers willing to risk it so I will report back. For me personally, risking the warranty over on an $800 pair of skis is not worth it. Plus the benefits of Turnamic/NNN are so great. Lower foot position to the ski equals more control and better ski feel. Also the ability to change loading position is super beneficial. We see great variation in ski flex over varying load positions so being able to dial in your binding position is of great value.
The last noteworthy detail on eliminating the filler material is a weight savings. On skate skis, we are seeing a 4-5% decrease in weight and in classic skis we are seeing a 3-4% decrease. This is noticeable when skiing. The skate skis are especially nice with an easier return underfoot as swing weight is a bigger impact in skating vs classic skiing.
Cold base bonding: This is not new for the Speedmax but Fischer is now cold base bonding down the line through the Carbonite and the RCS. This is great news as it means more control for Fischer. When the cores and base material are "sandwiched" together at the same time in the ski press, there is higher variability in the process for controlling the flex. By only pressing the core and then gluing the base on later, Fischer gains better control of their process. This means better and more consistent quality of ski flex. We noticed a big jump in quality of flex in the Carbonlite and the RCS when visiting Fischer earlier this summer.
 Another great benefit of cold base bonding is the base material is unaltered by the heat and pressure of the manufacture pressing process. This uncompressed and non-heat calloused base material can absorb more wax and it is also much faster in warmer conditions.
Graphics: They changed and they look awesome! Fischer is usually a trend setter in the industry when it comes to marketing and graphic design. This release is no different… the ski look great and the highlighting on the tips in addition to the bright 3D glide walls is quite poppy. We will do our job picking great flexes so the skis are gliding as fast as they look.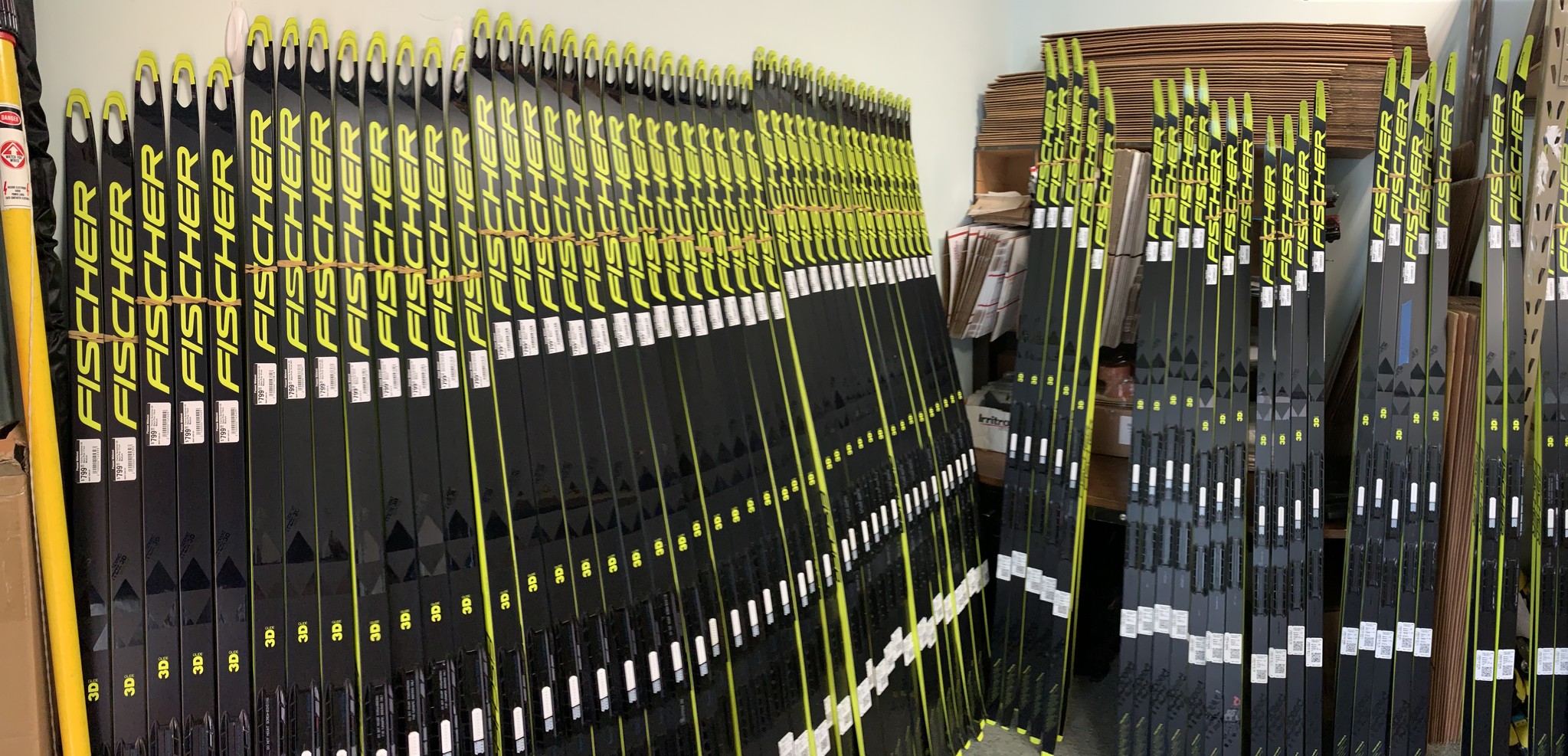 Camber Model breakdown
Classic 902: The 902 mold is the klister camber classic mold designation from Fischer and is, I think, the most universal race classic ski on the market. From a directional liability, we know that great warm skis can do both warm and cold snow. Cold camber skis, no matter how great, can only do cold snow. https://www.pioneermidwest.com/ski-services/ski-analysis/. The benefit with the 902 camber is that if picked well, it has a huge range. The only national level Supertour classic race I ever won was on a pair of 902 skis. I have heard that Fischer athletes use the 902 camber 90% of the time on the World Cup. The only downside of the 902 is they can be a bit squirrely because of all the tip and tail splay. We try to pick 902s with longer base contact zones to alleviate any stability issues but if stability is the highest on your priority list, an 812 classic camber will be a better choice. For speed at all cost, 902 most of the time will be the choice.
Classic 812: The 812 mold is Fischer's hardwax camber and is an awesome choice for a hardwax and/or cold snow ski. The box like camber provides very solid kick and the long glide zones deal to with cold snow fiction extremely well. Also, the longer contact zones provide a very stable platform. The 812 mold comes in both Cold and Plus base material on the Speedmax. Also, the RCS and Carbonlite use the 812 mold.
Skate 610: The 610 design is the most successful and prevalent skate mold Fischer has used for racing. Defined by a low resting camber and strong closing finish, the design is tolerant across a large range of snow conditions. The 610 camber has a lot of variation which is good because it allows us to match up chamber characteristics to the needs of the skier. Fischer is only using the 610 design in their top ski, the Speedmax, in all three base materials… Cold, Plus, C-Special. The Speedmax is stamped on the tip with 1Q which = 610.
Skate 115: This is the camber for the Carbonlite and the RCS skate skis. The resting camber is higher compared to a 610 and the highpoint on the camber is more forward compared to a 610. Also, when pressure testing, most 115 mold skis show 50% more tail pressure compared to a 610. Fischer has designed a more stable camber and/or a hard-track condition ski with the 115. But due to the variance of cambers, it is more than possible to find a 115 mold that fits universally or even for softer conditions.
Base Material: Cold vs Plus vs C-Special
Cold: Fischer cold skis use their A5 base material and are stamped accordingly on the tips of the skis. The A5 base has a higher level of graphite in the base material to deal with friction from cold snow and mechanical interlock, in addition to static cling from dry cold snow. We have found the A5 base to be great in the mountain west but a little more fickle in the Midwest and East. With the higher humidity, even in colder conditions, the Plus base outperforms the Cold base. But when the Cold base runs, it really shines.
Plus: The Plus base material from Fischer is known as their 28 base. This is one of the best, if not the best, base materials in the industry. Very tolerant to a wide range of conditions. Also, it is very resilient to abuse from consumers with too hot of an iron. The 28 material is mostly clear but a small amount of graphite is added to reduce static and fiction forces… this small amount of graphite in the base composition is enough to tint the material all black. The 28 base can be hardened with enough cold wax to handle extreme cold as long as some humidity is present. If it is very cold and dry or extremely dry, the cold base is a better choice. The 28 base can also handle snow temps into the 40s and even 50s… in these conditions, a fresher stonegrind will help immensely.
C-Special: Fischer wet snow base material is devoid of any graphite so the color of the base reflects the graphics on the bottom side of the ski… which looks pretty cool! Removing graphite helps with dirt accumulation in wet/dirty conditions. We have success with the C-Special base material in temps above 40. If in the 30s, the Plus base seems a little better and has a lower liability. But if you are looking for a water ski, C-Special is the right choice.