Our treadmill is a custom built treadmill from Tuff Tread based out of Texas. It is capable of reaching 25 mph and a 30% grade. Our goal behind bringing this treadmill into Pioneer Midwest is to give our customers yet another way to help improve their performance and results. We are hoping to become a full service ski shop that offers not only the best equipment and ski services, but also the best training services as well.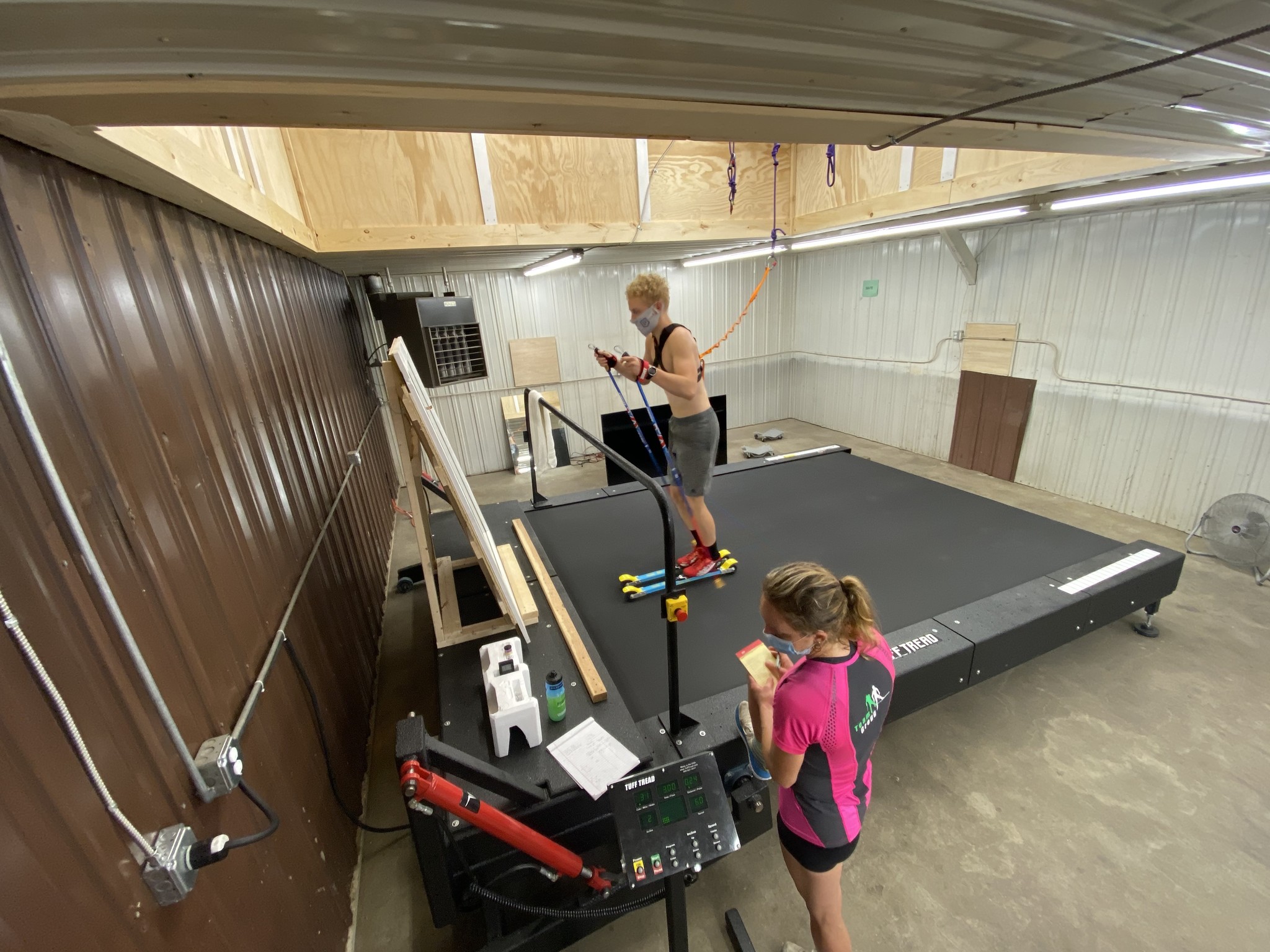 Benefits of using a roller ski treadmill?
The number one benefit to using a roller ski treadmill is the specificity of training.  The key components to any training session are duration (how much), intensity (how hard), and mode. By influencing any of these components, you will be able to change the focus of the training session. When changing the mode from biking, to running, to roller-skiing, you are becoming much more specific in the training types. The principle of specificity shows that the closer the training is to the desired task, the better the outcome will be.
For cross country skiers, the most specific type of cross training that can be completed off snow is roller skiing. The movements and muscle groups used in roller skiing are nearly identical to on-snow and will be the most specific form of training possible. A roller ski treadmill will allow you to complete your training and make adaptations in a completely controlled environment.
Working on technique with our roller ski treadmill will help to decrease the time to make adaptions. In a normal training session you have to either visualize what your technique looks like, or you will maybe be able to see it after the workout if any video has been taken. On the roller ski treadmill we have two camera angles (front and side) that will be projected onto a screen directly in front of you as you are skiing. Utilizing these cameras with multiple angles you will be able to have direct, live feedback to any fixes that need to be made.  This direct feedback will make technique adaptations much easier to be made.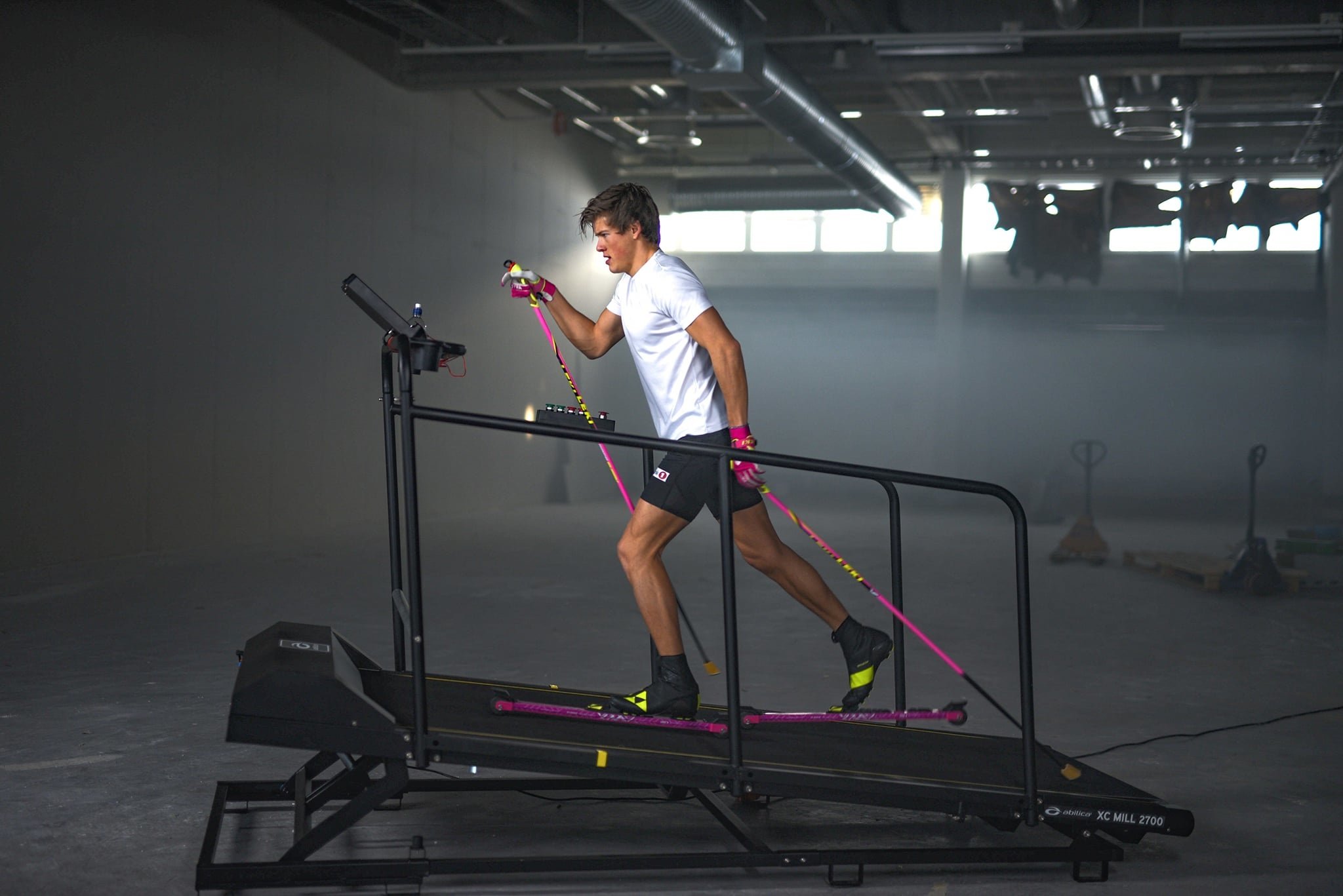 Benefits of lactate testing?
Lactate testing uses small samples of blood from a lancet to measure changes in the lactate level in your body. As your body works harder, it creates more lactate which will in turn drop the pH in your body, causing that familiar, uncomfortable burn in your muscles. Using a submaximal or maximal graded exercise test, we can map these changes in lactate levels by looking at the corresponding heart rates during a lactate test. Combining this data together we can extrapolate both training zones, and potential areas of weakness to work on. Completing this on a roller ski treadmill will give more accurate training zones because of the principle of specificity as mentioned above.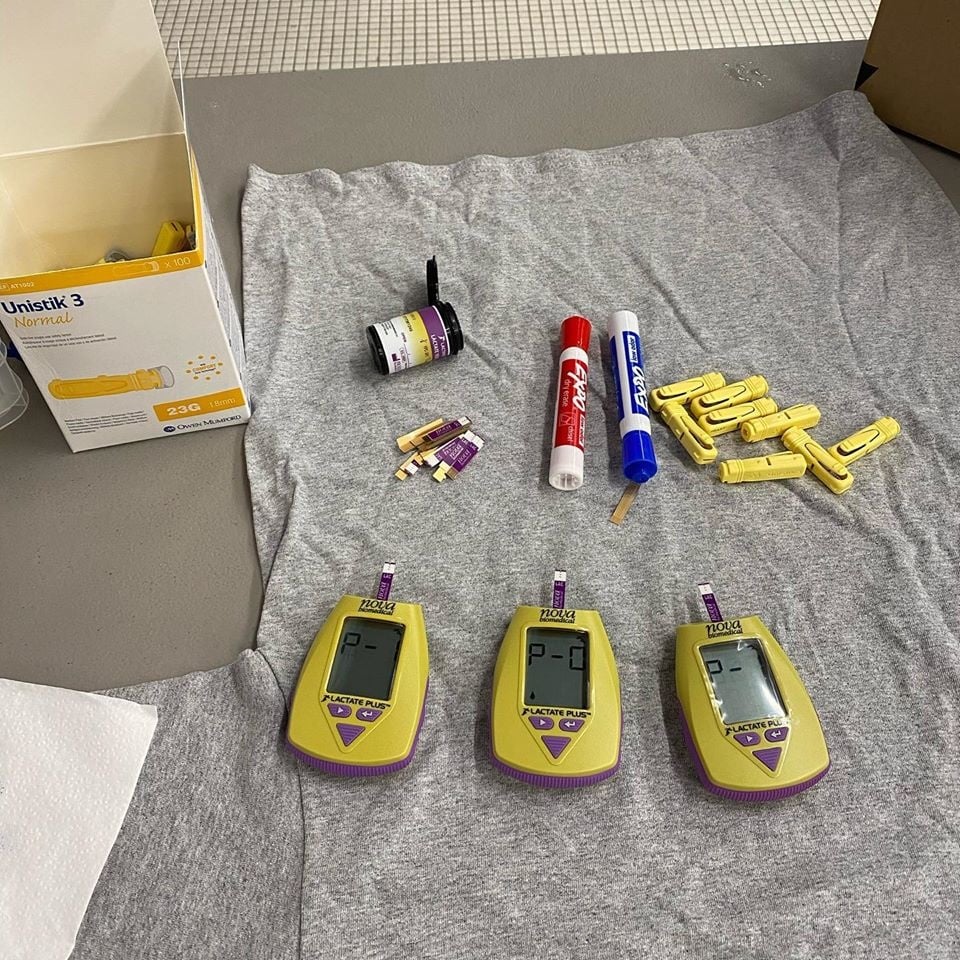 What do I need to bring?
Roller skis and poles will be provided. We have a full fleet of Hjul skate and classic rollerskis using both Prolink/NNN and Pilot/SNS binding systems. In addition, we have poles in varying lengths with specialized tips that will be used for any session on the treadmill. You will need to bring you own boots to use.
Pricing and scheduling a session?
Find more infomation about pricing and scheduling a session on the treadmill HERE !