Need help finding the right pair of skis for you? Fill out our ski request form and we will help you through the selection process:
CLICK HERE
Classic Skis:

Cross Country Touring Skis are perfect for skiing on groomed and ungroomed ski trails. These will be primarily used for Classic skiing which is forward and backward striding motion like the picture above. Touring skis are generally longer but also wider for added stability while still fitting in the tracks. Some touring skis are specifically designed to be shorter making them easier to control and maneuver. These are a great option for beginners and skiers who want to get out for some exercise and have a great time outdoors.
Skin Classic Skis can be a great option for beginner skiers and experienced racers. Entry-level skins provide a faster glide than traditional fishscale skis while still having the convenience of being waxless with consistent kick overall conditions. Performance level skin skis can be a great go-to ski for an experienced skier that no longer wants to spend time waxing but still wants a fast ski. They can also be a great addition to a racers quiver for certain conditions as well as a great training ski.
Waxable Classic Skis can be a faster option compared to skin skis when waxed correctly according to snow conditions. They are generally a bit more work compared to a waxless option as you need to apply a grip wax to the middle portion of the ski. These have been the go-to option for racers for years now and most of the time will be the better choice in terms of speed. In very limited, tricky snow conditions waxless skis like skins or "zero" skis can give better grip which can make them the better choice.
Skate Skis: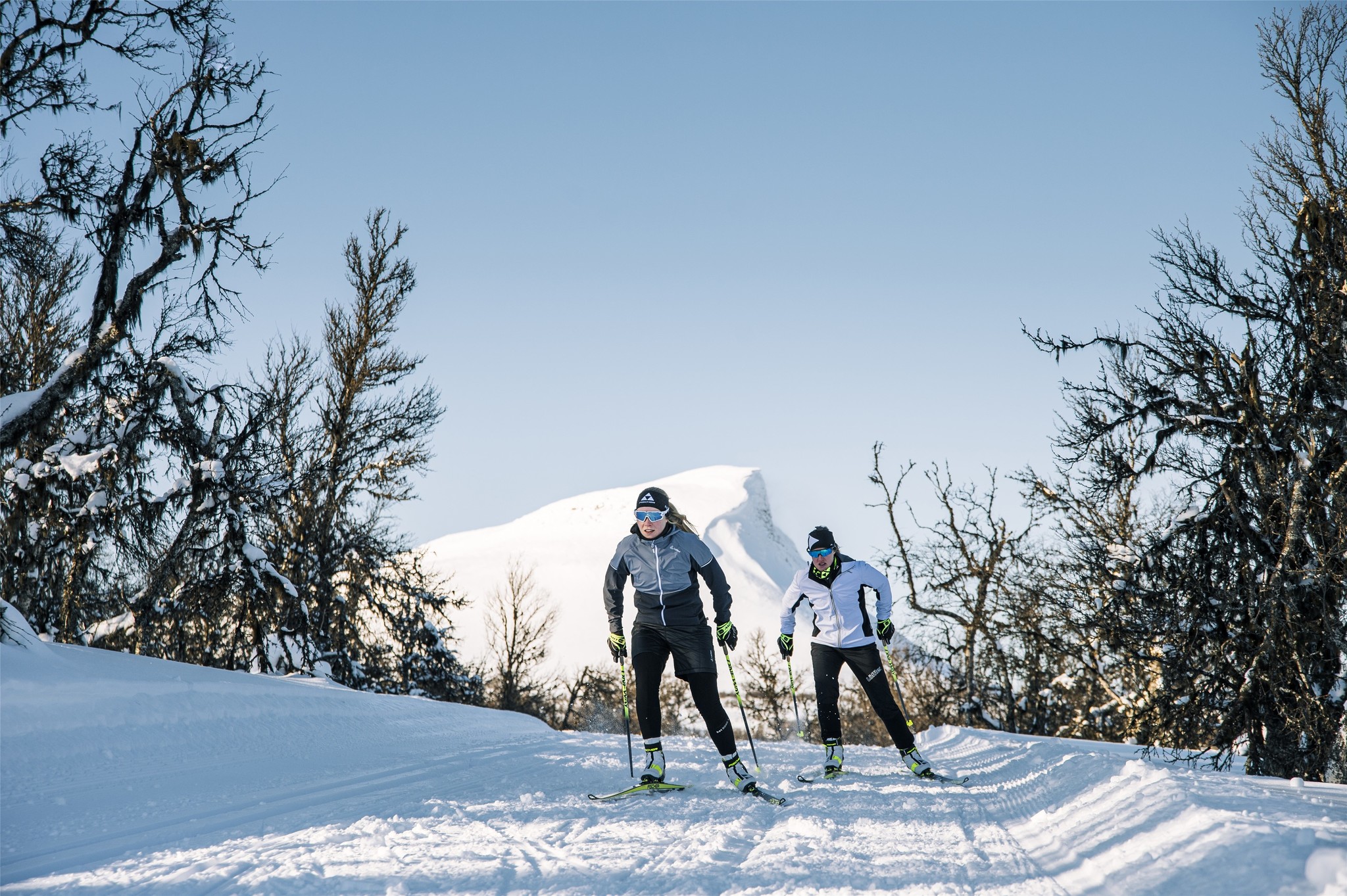 Skate Skis are great for doing the ice skating motion while skiing on groomed trails. The skis are stiffer than classic skis, which allows you to push off the edge of one ski to glide on the other. Because they are stiffer, they are unable to do the striding technique as they will not compress enough to allow kick wax to work properly.  Skate skis are also generally shorter than classic allowing better mobility. These are a popular choice for all skill levels.
Boots: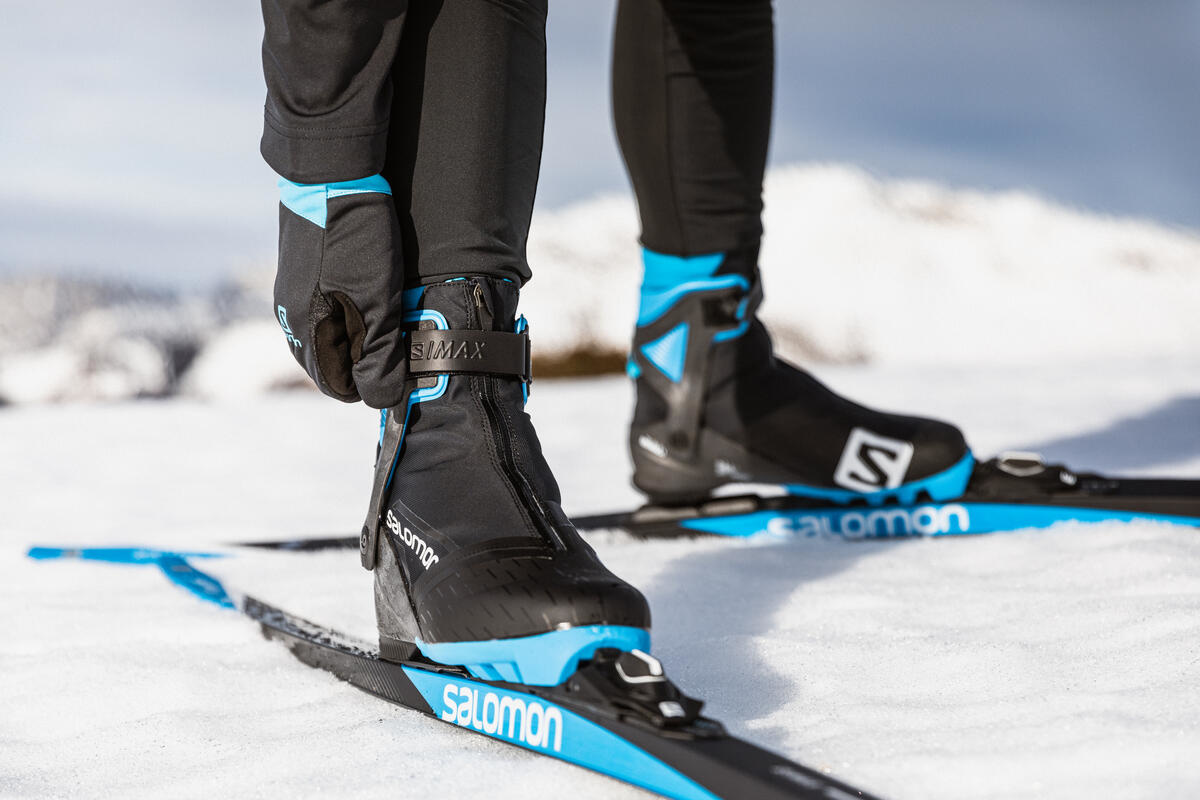 Touring Boots are great for skiers who don't need super lightweight boots and care more about looking for warmth and comfort. Some touring boots have an extra ankle cuff on them for added support and stability. This is especially good if you often go off track and make your own trails.
Performance Classic are great for skiers who want a lighter boot than touring. These do not have any added ankle support and a more flexible forefoot leading to a greater range of motion. 
Skate Boots are the best option if you are wanting to skate ski. The high cuff and extra stiffness in the sole gives the added support and stability needed for skating.
Combi Boots are a great option if you want to only purchase one pair of boots. They do a good job of skate and classic giving you flexibility to do both techniques. Combi boots will typically have a high cuff giving extra ankle support while having a more flexible sole to increase the range of motion.
BINDINGS: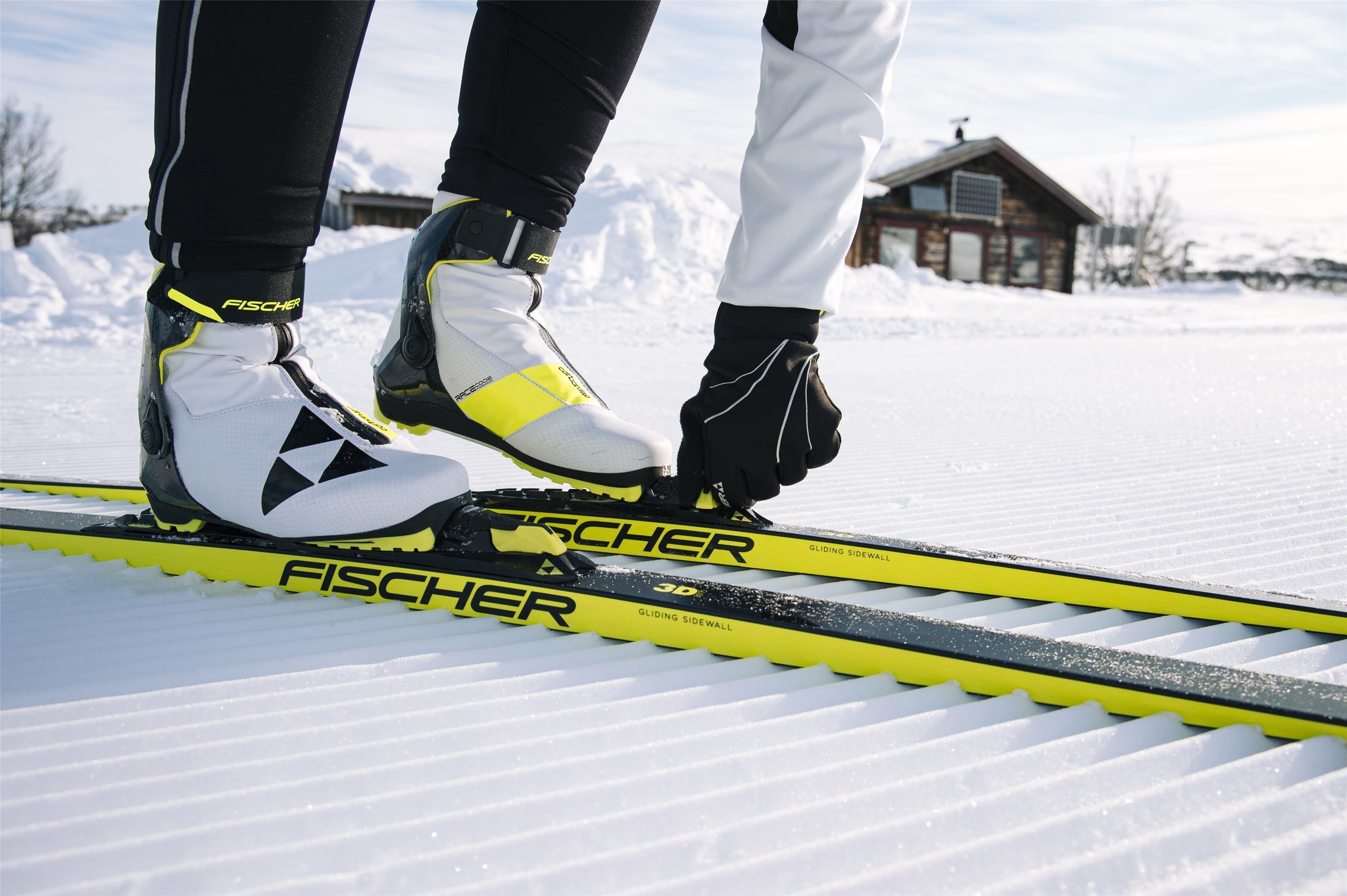 There are two main types of binding systems that have been popular over the last few years NNN and SNS. These systems are not compatible with each other meaning the boots and bindings need to be the same type to work together. 
NNN is becoming the standard system that most skiers are choosing. There are a few different brands and models that are all compatible with each other. While SNS is only compatible with the correct SNS style binding. 
| | |
| --- | --- |
| Binding model and type: | Compatible with: |
| Fischer & Rossignol Turnamic | Turnamic, Prolink, and NNN |
| Salomon Prolink | Turnamic, Prolink, and NNN |
| Rottefella NNN | Turnamic, Prolink, and NNN |
| Salomon SNS Pilot | SNS Pilot |
| Salomon SNS Profil | SNS Profil |
Poles:
To complete the package it is important to get the right set of poles for your needs. Aluminum touring poles are the most durable option and cheapest option making them good for touring. Composite and carbon poles will get much lighter and stiffer than the aluminum option. It is crucial to get the correct length poles in order to ski with good efficiency and technique. Here are our recommendations for pole lengths: