We are happy to announce our partnership with Bridger Ski Foundation athlete Hannah Rudd from Plymouth, MN. Hannah will be working with Pioneer Midwest to share stories from the racing circuit and work with our service team to continue testing of our grinding and ski processes around the country.
Pioneer Midwest- Powering Hannah Rudd and the Midwest Ski Community
By: Hannah Rudd
Hello Pioneer community! My name is Hannah Rudd, and I'm a professional ski racer on the Bridger Ski Foundation Pro Team. I am originally from Plymouth, MN and grew up skiing on the trails at French Park, Theodore Wirth, and Hyland. I absolutely love the Midwest and truly believe that we have fostered one of the best ski communities in the country. This amazing Nordic community continues to grow because of our top-notch ski trails, our passion for the outdoors, the abundance of teams, and because of ski shops like Pioneer. Over the past few years, Pioneer Midwest has turned into one of the best shops in the country- and they continue to make sure that our local community is equipped with the best gear and are ready for a full winter of skiing.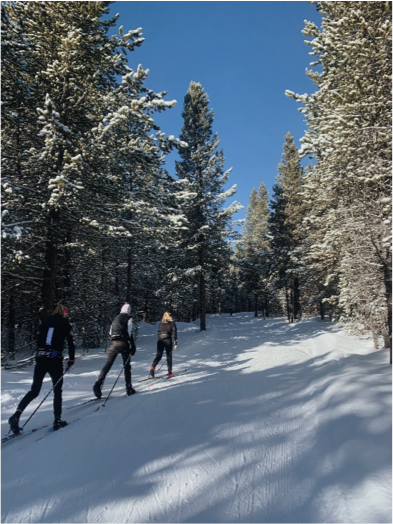 Last year, I made a change in ski brands and completely switched over to Salomon equipment. Although switching brands can be a bit stressful, the staff at Pioneer Midwest made my transition as seamless as possible. Along with having a huge ski selection, the shop also has a state-of-the-art ski fitting system and staff that are experts in making sure that your skis are right for you. A month ago, I brought my entire ski fleet into the shop to have them all checked out. Pictured below is a photo of Matt taking a look at my classic skis using the shop's flex/pressure tester. I had never seen this machine in person, so it was pretty cool to see it in action and learn about the quality and profile of all my skis.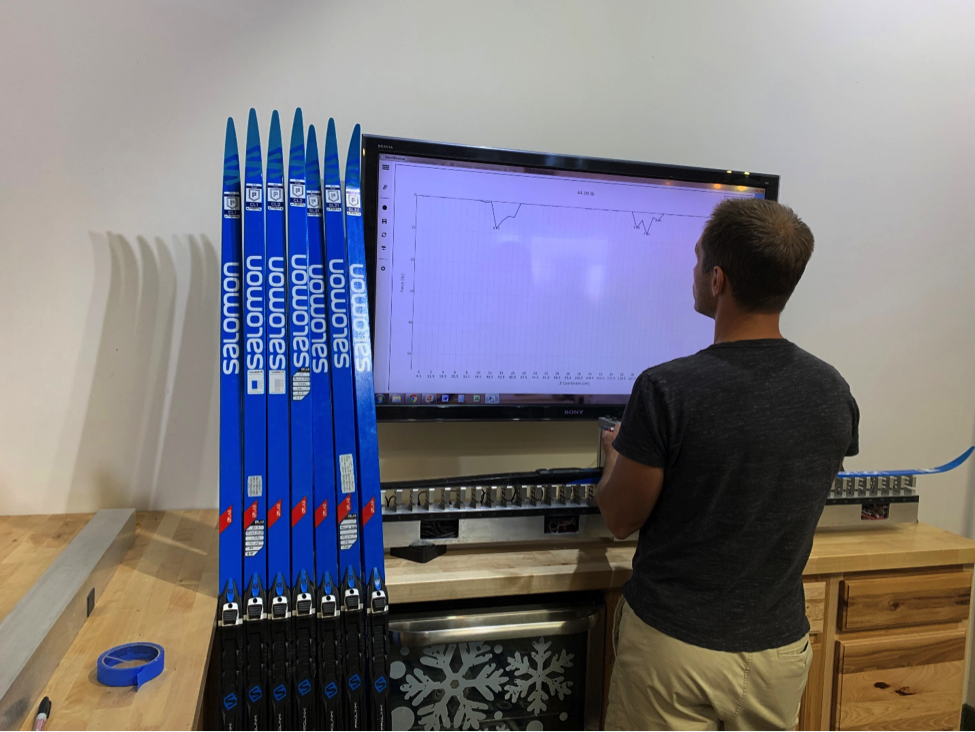 (Matt using the flex pressure tester on my classic skis)
Next, my skis were taken to the flex tester! This device measures the skis' tip and tail splay, pocket length, and flex parameter. By using the flex tester, I was also able to dial in the kick zones on my classic skis.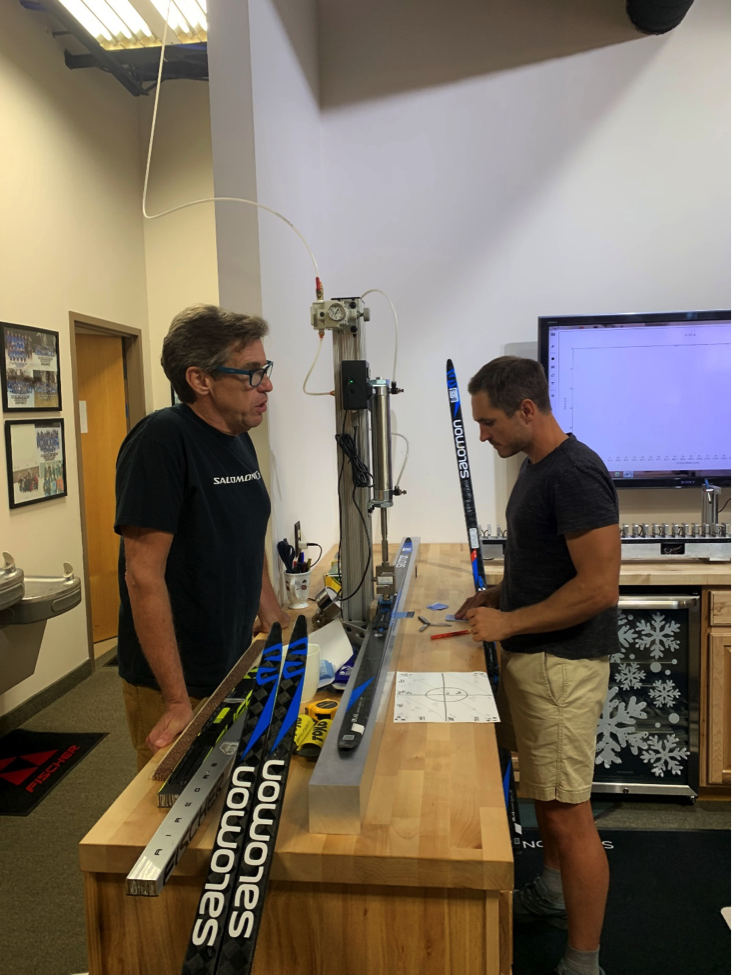 (Looking at my skate skis with the flex tester)
Another very important element in making sure that you have fast skis is having a good grind on your base. With emerging fluoro bans, having a quality, fast grind is even more crucial and can make a world of difference in your skis' speed. Knowing this, I had Pioneer grind a bunch of my skis last month as well.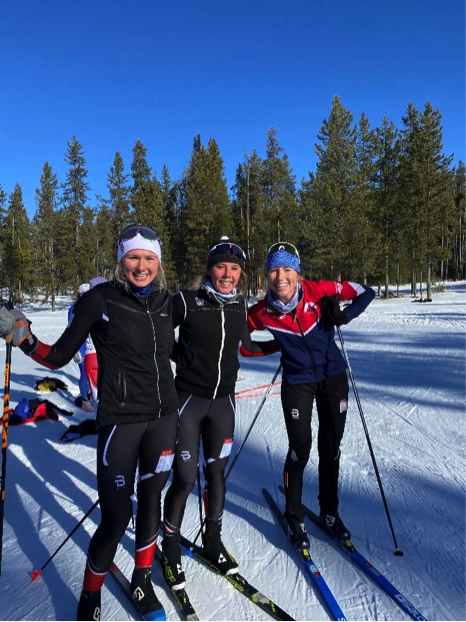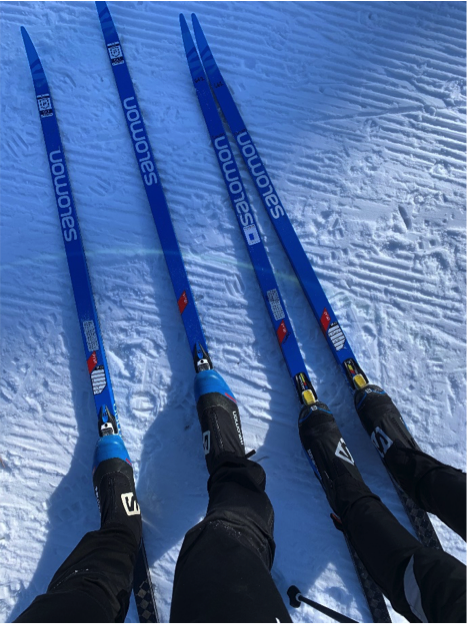 (Testing different skis and grinds with my teammates last winter)
When I was at the shop, Matt also showed me a sample of what the inside of a ski looks like - essentially a honeycomb-cardboard-looking structure. Kinda cool!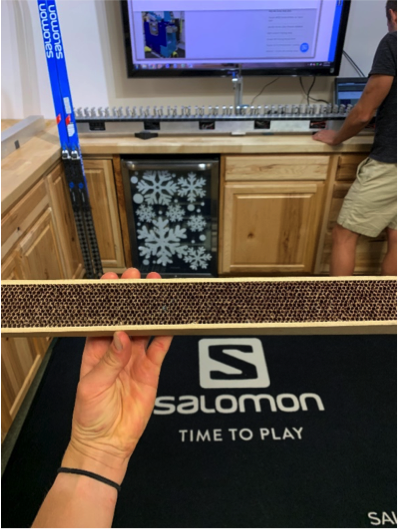 (The inside of a Salomon ski)
Lastly, I just wanted to say that whether you're a veteran skier, a high school athlete, or completely new to the sport, I hope you know that you're living in one of the best Nordic communities in the country. I consider myself so lucky to have grown up in the Midwest - It's this place that got me to where I am today.
Thanks for reading and I'll see you out on the trails!
-Hannah