We made the return to Europe this spring to get our hands on the brand new redesigned products after the recent 22' Winter Olympic cycle. With production and raw material sourcing being an issue in any industry at the moment, cross-country ski brands are facing the same issues across the globe. We are lucky enough to have great relationships with all of our major brands allowing us to know when race ski production peaks in order to be the first on the scene to pick through and find the fastest and best-fitting skis for all of our customers.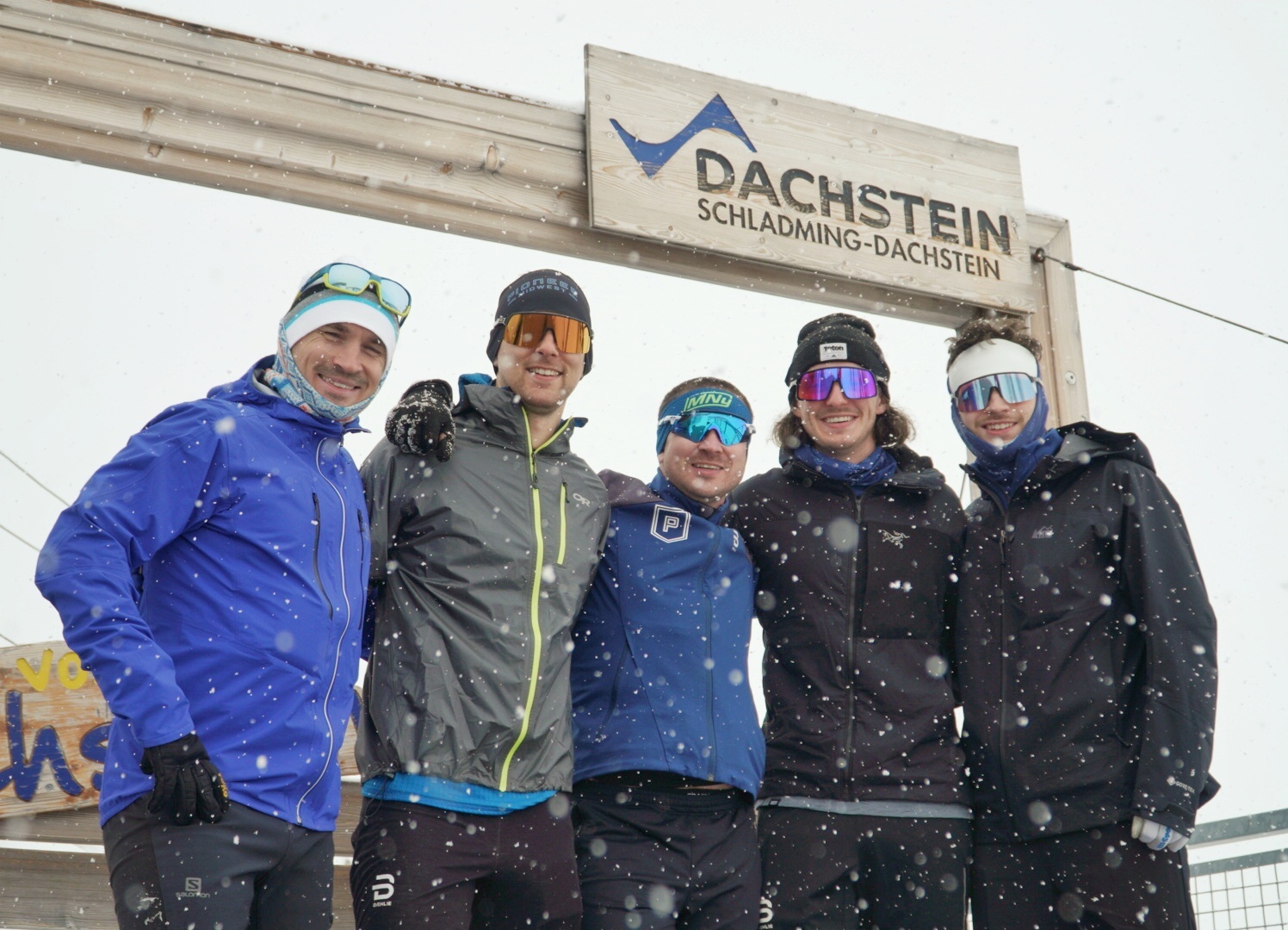 Without going into too much detail or giving away too many secrets, cross-country skis nowadays are still handmade wooden objects that see incredible amounts of human labor and heat during the production process. Both of these lead to variation in the end product, which is why we take time to fly halfway across the world in order to make sure we are getting the best ones. Ski construction has changed and materials are getting lighter, stiffer, and more refined which results in a higher bar across the industry and better skis for you the customer in the end. As I mentioned before this year we saw some major changes from many top manufacturers making this season of ski picking incredibly exciting and important as new construction and processes are put into place. 
Pictures and Videos from all the factories are limited but if you swing by and chat ski picking and fitting with us here at the shop we love going in-depth into what makes that rocket-fast pair of skis better than the pair next to it and have some insight into the process for those curious minds out there.
Salomon
Our picking trip started out in Austria at the main production and storage facility for Salomon nordic. Salomon racing shares a production facility with Atomic making up the Amer sports winter division headquarters in Altenmarkt, Austria. This year we were at the S/lab Select facility at the same time as Salomon racing service managers as they picked through skis for top racing athletes in the 22-23 season. We also were able to meet up with Jean-Marc (pictured with Matt below) who has been with the company for 15+ years and has history and knowledge in every part of the ski development process. It was an incredible opportunity to sit down and hear how things are changing regarding the racing products and within the company itself, as well as discuss what is really going on behind those magic pairs of skis. Both skate and classic skis had just finished large production batches making it the perfect time to sort through hundreds of skis to find hidden gems for our ski picking list customers and store inventory for the upcoming season.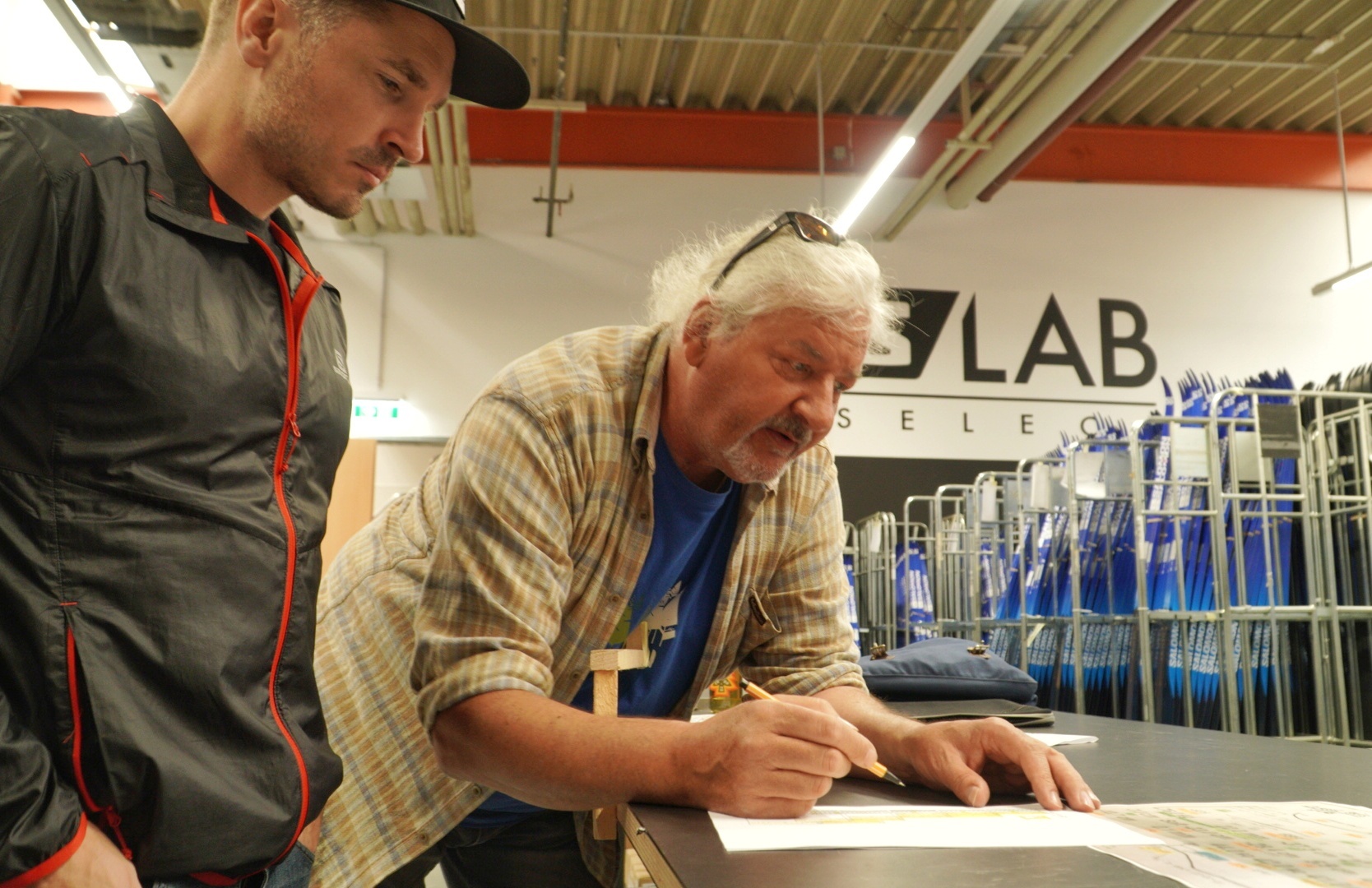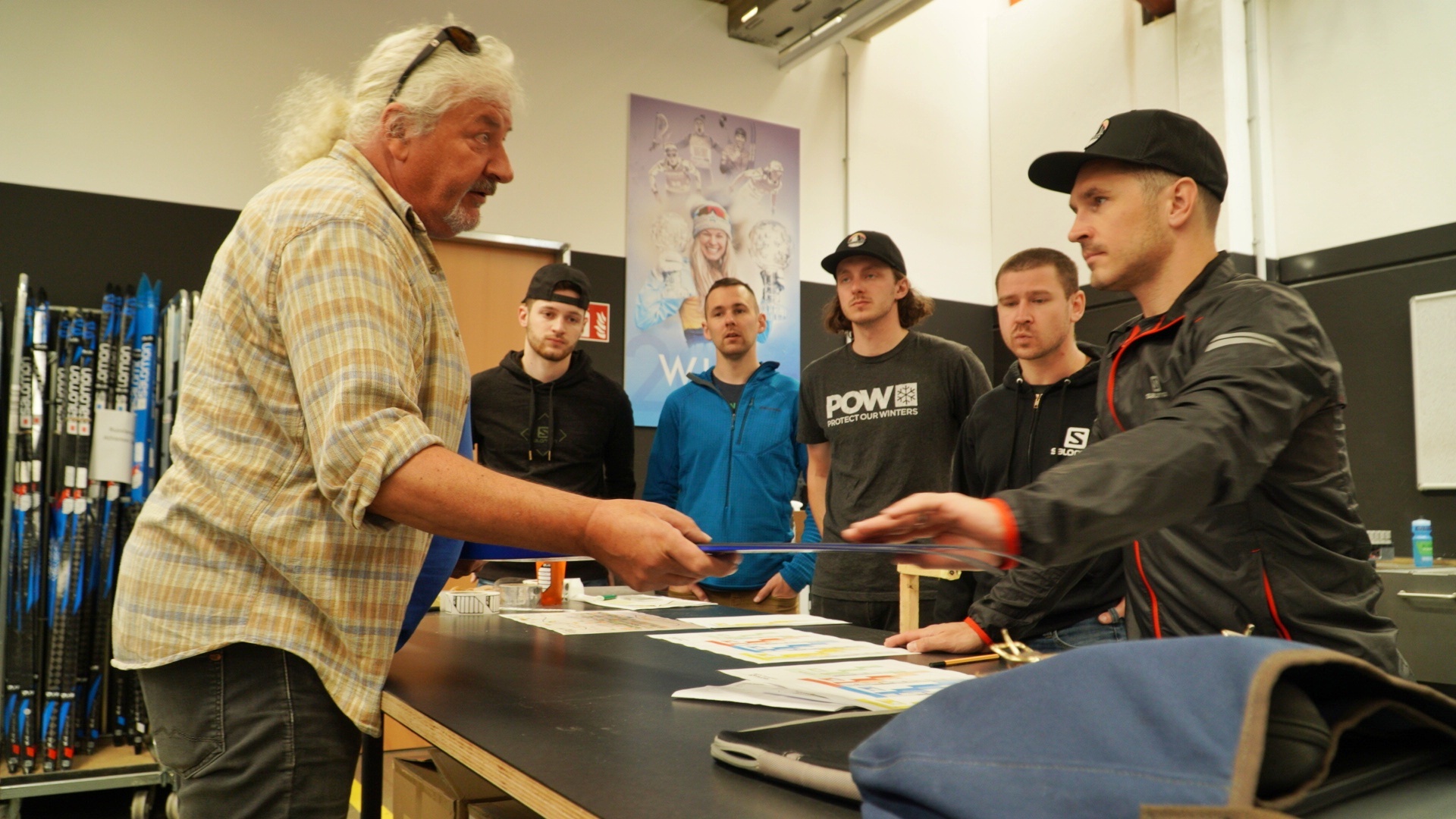 The carbon layup on the new SLab skate and classic skis had produced some incredible pairs of demo skis earlier in the winter this year, including Matt's very own S/lab carbon blue skate skis that he skied to 8th in the Birkie on. With a familiar flex pattern and ski feel to their previous model, we are excited about the Carbon skate skis that we got our hands on! We are constantly learning along the way with the brands we work with and had the opportunity to talk numbers and specifics throughout the production process with folks up and down the Salomon nordic ladder. With our volume as a shop we have a close relationship and it was excellent timing to have a return to Europe for some meetings and education.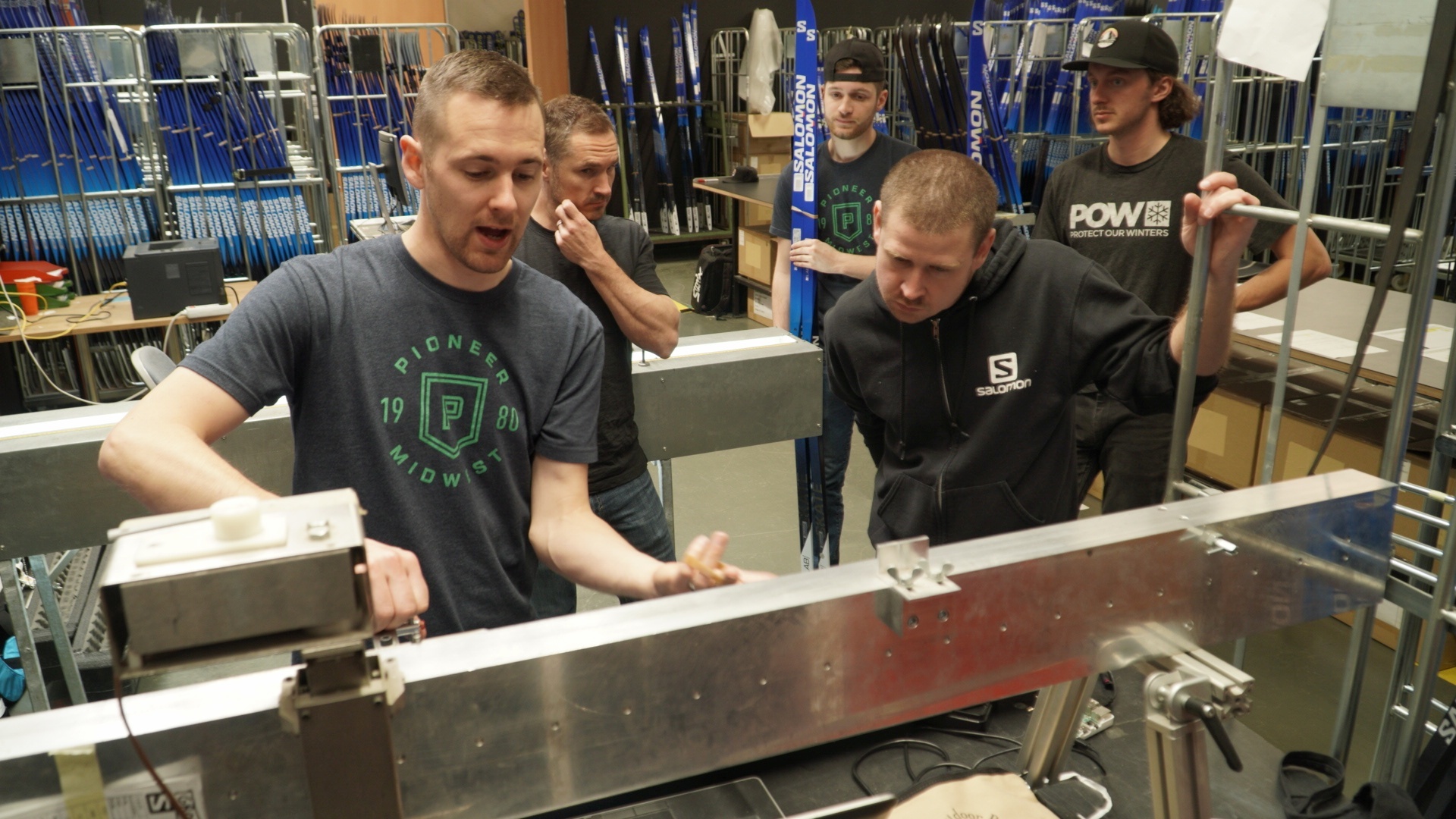 Classic skis saw the same general improvements as the skate skis with an improved carbon layup which allows the ski to follow its natural flex curve into the kick zone, providing a solid even kick. We are lucky enough to travel with our own flex tools and also utilize the same tools in each of the production facilities that the top coaches from all over the world use. This allows us to pinpoint our ski selection (extremely important on classic skis) for both our customers on the ski picking list as well as a variation of skis for our store. We found some excellent classic skis ranging from Cold hard-wax Salomon Blue skis to new Zero Classic skis.
Atomic
On the other side of the Amer sports production facility lies the headquarters for Atomic cross country racing; as well as their historic alpine division that paved the way for the brands prominence around the world. Atomic has put time and money into their racing division and has some exciting additions to their list of sponsored athletes, including US ski team member Julia Kern. As we sorted through the race skis for our stock we ran across numerous other big names of both returning and new Atomic athletes for the 22-23 season.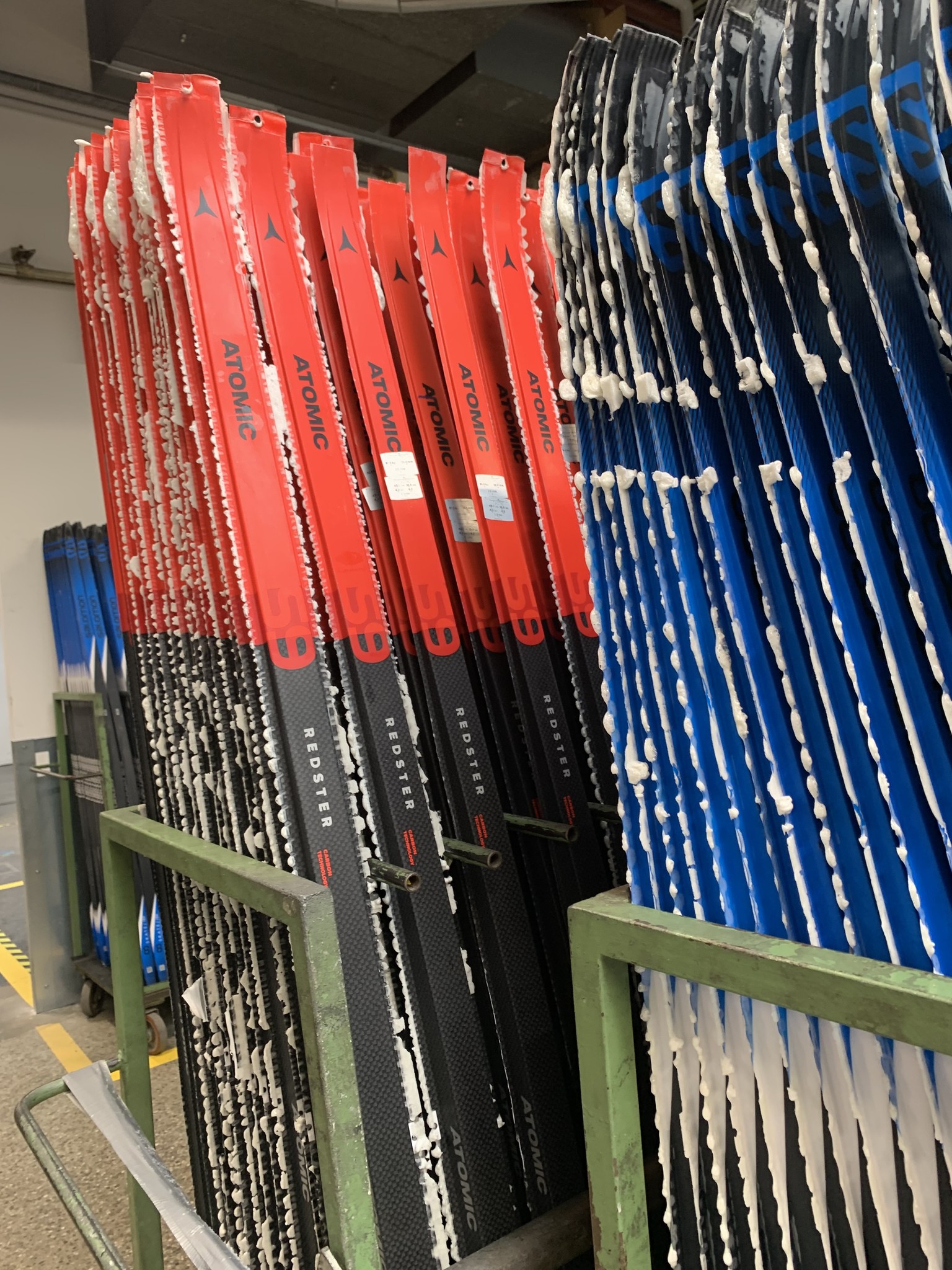 Walking into Atomic was a bit of a shock, Atomic has focused much of its development on the Redster Gen S S9 skate ski which uses a one-length fits-all approach by varying flex underfoot. Hundreds of pairs were stacked around the room each with no visible discerning difference between them with fit ranging from sub 100lbs up to 215lbs+. The Gen S has already seen spectacular results on the world cup level and we have had glowing customer reviews all over the country. We picked numerous for customers but will also have a number coming into stock that are still unspoken for. The pairs that we are bringing back with us are truly going to be a blast to ski on and a wonderful addition to a quiver of skis.
Although our numbers of requested Atomic skis are a little lower, the quality and availability of skis was excellent this year. If we had any questions along the process Martin was there to help guide us and dig skis out that seemed to be exactly what we were looking for. The ability to work hand in hand with the racing service portions of each company is a major piece of ski picking, it allows us to have a direct contact to reach out to in situations where we need top-quality skis. It is helpful for them to see our strategies and process and these racing managers go through all of the world's top athletes' skis and deliver them to coaches and teams.
Fischer
A few hours north of Altenmarkt sits Ried, Austria which is the home of Fischer sports production and operations. It is hard to miss the bright yellow banner as you come down the street and large plot of land that the campus sits on. Fischer is well known as a top brand in the industry and heading into their facility it is clear that they have production and efficiency dialed. On the same block as Fischer's ski facility lies FACC which is essentially Fischer Aerospace, originally developed with ski technology in the 80's. Fischer has benefitted greatly from this technology and division allows them to continue their r&d into the present day and present ski models.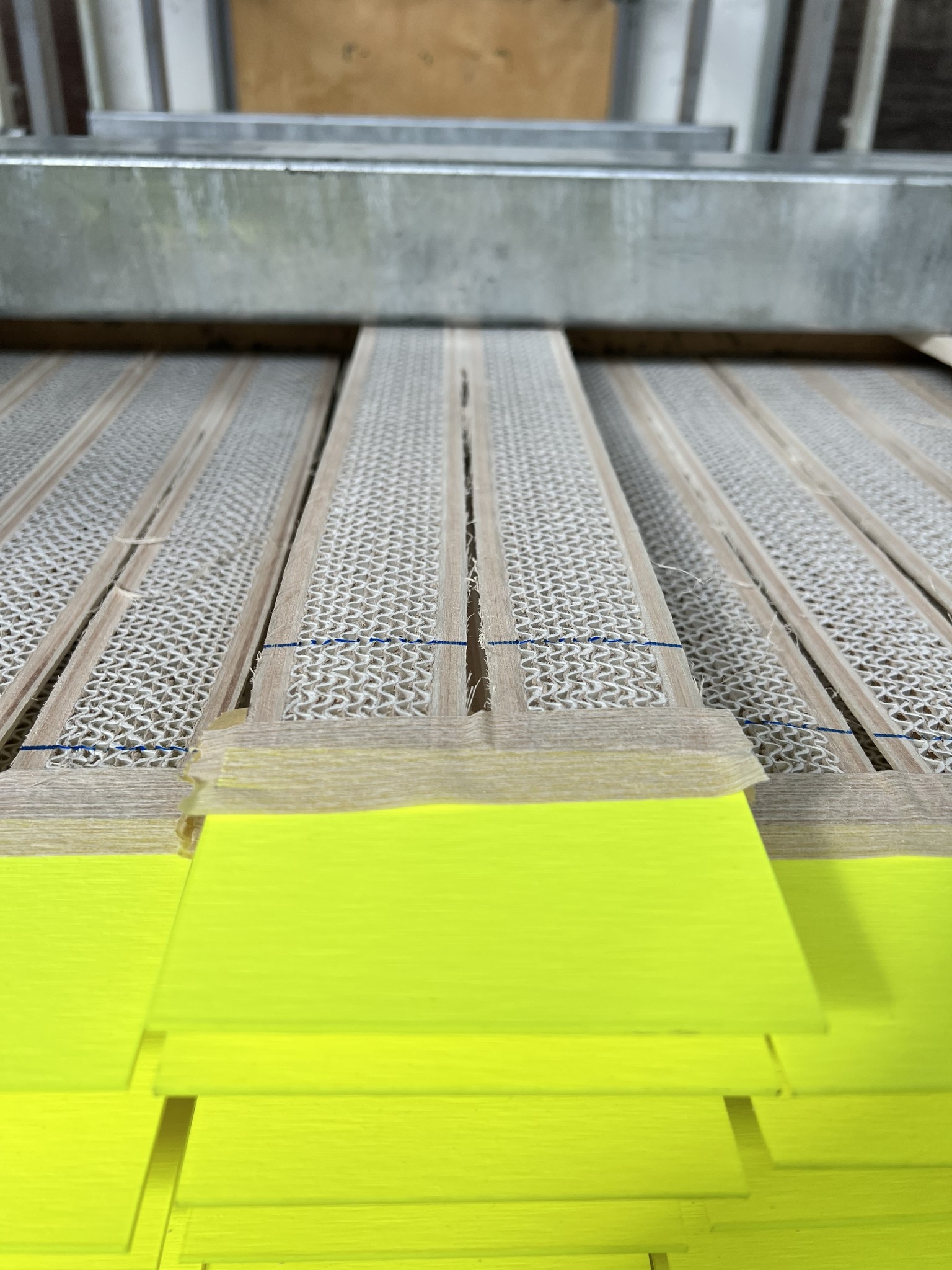 The 22'-23' model year skis saw mainly a graphic change to a hard to miss even brighter yellow that covers the entire ski. We also saw a very limited number of new Helium skate skis that are being reserved for athletes going into this next season, we did take a look and flex a few out on the machine and everything is pointing to an incredibly light and exciting new skate ski from Fischer. The rest of the Speedmax lineup sees a change to a new world cup tip and continues the addition of the 3d gliding sidewalls released a few years back. We selected a huge number of both Speedmax Skate skis as well as one of our customer favorites; the Speedmax Classic skis in both the 902 (uni/warm) and 812 (uni/cold) molds.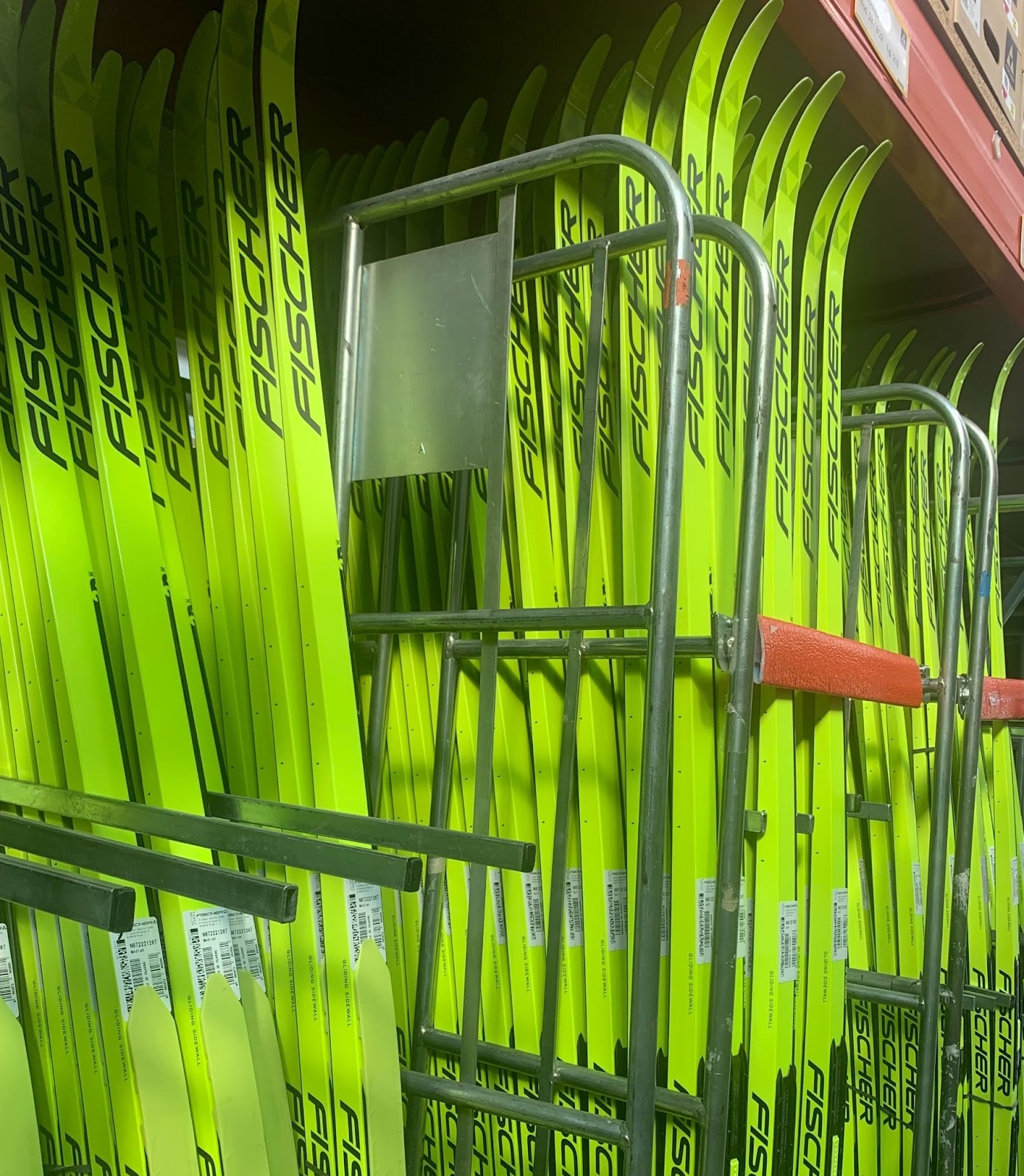 Production in the facility was primarily focused on race skis during our tour, so it was an excellent opportunity to see exactly what goes into the production of their current racing stock. At Fischer, we overlapped with coaches for the French national team that were selecting skis for their athletes as well. Similar to our ski picking list they have a number of athletes' data that they are selecting skis for. After sorting through and testing skis, the top picks for the athletes continue on to be skied in the offseason and sorted through in order to fill the ski fleets going into the season.